Bucket Elevator
The bucket elevator is pellet mill equipment which can transport raw material usually mean flowable powdery, bulk or granulate materials to the needed position during pellet mill process. Generally the material is hauled vertically or in a large angle of inclination. The main components of bucket elevator are buckets, rubber belt, enclosure, electric motor, non-return braking devices, etc. The GEMCO bucket elevator has the features of relatively small volume, simple but delicate design and easy to be transported.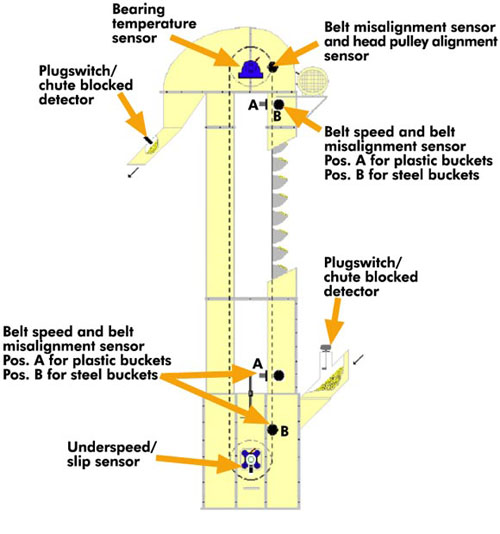 Bucket elevator
Working principles:
The materials come from the stock bin down at the bottom; they are taken by the buckets on the rubber belt driven by an electric motor to the top of the bucket elevator, during the process, chains or belt is the tool. And then the materials are sent into the specified loading chute. In the biomass pellets production line, the bucket elevator is used when you want to transport the materials into the higher silo for storage or transit.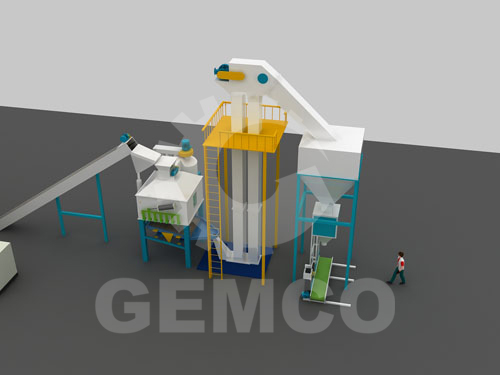 Bucket elevator in 3D
Features of the bucket elevator:
The bucket elevator needs a small driving power, and the design of the induction unloading, flow-type feed and intensive layout of large capacity hoppers can prevent the materials from excavating and returning during hoisting, which can low the reactive power.
The scope of usage is wide, it not only can hoist the normal powdery and granulate materials, but also the nubby materials, in addition, it is of good sealing and low environment pollution.
The working performance of the bucket elevator is ensured by the advanced design schemes and processing technology. The no breaking down working hour can reach up to 20000 hours and it has higher and stable hoisting.
The design of flow-type feed guarantees the long service life.
| | | | |
| --- | --- | --- | --- |
| Mode | TD 300 | TD 400 | TD 500 |
| Driving power (KW) | 2.2 | 3 | 3.5 |
| Buckets width(MM) | 300 | 400 | 500 |
| Bucket interval(MM) | Adjustable | Adjustable | Adjustable |
| Carryings(T/H) | 2-4 | 3-6 | 5-8 |
Get in Touch Now!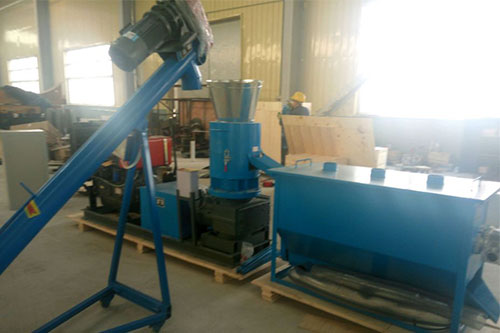 Diesel pellet machine and screw conveyor are specially designed for our customer. The trial run is successful. Welcome to consult and order....
© Anyang Gemco Energy Machinery Co.,Ltd. All Rights Reserved.