Wealth value and reliable manufacturer of wood pelletizing machine

Straw has been burned or abandoned all the time, which not only causes serious environmental pollution, but also wastes valuable and available resources. In order to alleviate the current low utilization rate of renewable energy for biomass materials, wood pelletizing machine came into being. Wood pelletizing machine reuses vast rural waste resources and forms a new biomass energy, which can be used as a substitute for coal and petroleum.
As a new type of environment-friendly fuel, biomass pellet won wide recognition due to its obvious advantages. Wood pellet fuel produced by wood pelletizing machine has the following advantages: high calorific value, energy saving, combustion without a large amount of smoke and dust residue, low carbon and environmental protection. Compared with traditional fuels, the advantages of environmental protection and economic benefits are obvious. It is in line with the requirements of the era of sustainable green development.
Therefore, straw biomass energy is an important direction of energy development in the future. With the scarcity of global coal and other non renewable energy sources, the market and profit margins of biomass energy are huge. Biomass pellet production equipment has small investment and high profit. Operation mode of biomass energy fuel is flexible. Biomass pellet fuel machine can also be used for processing raw materials, and charge a rich processing fee.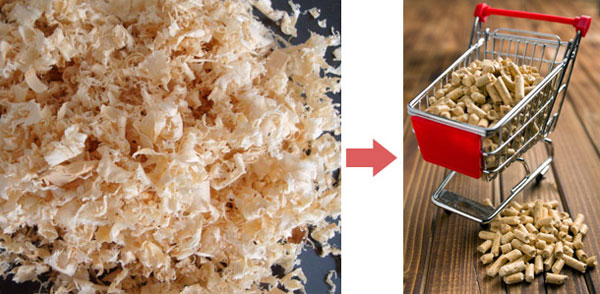 Wood pelletizing machine has the characteristics of energy saving, environmental protection and turning waste into treasure. It has become the focus of the environmental protection machinery market. Biomass resources are fully utilized. Wheat straw, corn straw, peanut shell, waste wood, corncob, rice husk, bark and other materials that are easily abandoned and low in utilization, all of which are good raw materials for making biomass pellets.
In recent years, the sales volume of wood pelletizing machine is considerable. The sales network of the wood pelletizing machine is perfect. The highly skilled manufacturer can win the trust of the consumers and bring the substantial profits for the customers.
The most reliable wood pelletizing machine manufacturer
Wood pelletizing machine is a machine that processes sawdust into rod pellets. Raw materials are abandoned trees, bark, waste boards, leftovers. Wood pellets can replace traditional coal as fuel.

The wood pelletizing machine invented by GEMCO is a hot product for the pellet machine industry. The equipment manufacturing technology is stable and mature. GEMCO wood pelletizing machine has a large market share and good reputation. It has been well received by industry customers.
Our company mainly produces wood pelletizing machine and biomass production line. All the machines have independent research and development. There are not only the latest types of wood pelletizing machine, but also the classic ring die pellet machine, high efficiency crusher, roller dryer, biomass briquetting machine, wood hammer mill and so on. Mature and stable technology, authentic material, substantial price, high price performance. High efficiency, high yield and flexibility.
What are the advantages of GEMCO wood pelletizing machine?
High degree of automation, manpower saving and high efficiency.
Long service life, stable and prolific.
The transmission of the reducer is enhanced and the load capacity is strong. The strength of the gear is higher than that of the traditional reducer.
The material is centrifuged, the distribution is uniform and the processing effect is good.
High quality and good price. If you want to buy a wood pelletizing machine, please contact us now. Quote now!
Get in Touch Now!