Straw pellet production plan-the business opportunities around us
Introduction of straw material
As we all know, the straw has been used as horse bedding in the early time. With the development of science and technology and the trend of green energy, straw can be processed into pellets by high temperature pressing of straw pelletizer, the widely used straw pellets can be used as animal bedding, animal feeds, commercial or household fuels, etc. The raw materials are crops wastes such as corn straw, rice straw, wheat straw, etc. The density of straw raw material is generally about 1100 kg/m3, and the density of the formed straw pellet is more than 1100 kg/m3. Straw pellets can be stored for a very long time and they are clean and convenient to use and transport. At the same time, the fuel performance is greatly improved.

Application of straw pellet
Electric power plant, straw pellet fuel can be used for thermal power generation.
District heating and living energy for civilian use. Straw pellets have high utilization rate of combustion and are easy to store.
Biomass industrial boiler. As the main fuel of industrial boiler and electric power, straw pellet can replace coal and also solve the problem of environmental pollution.
As animal feeds, the straw pellets have the advantages of cleanness, balanced nutrition, easy storage and a longer quality guarantee period.

Advantages of straw pellet fuel
| Material | Moisture content | Ash content | Calorific value |
| --- | --- | --- | --- |
| Rice straw | 15-30% | 15-20% | 13.98 MJ/kg |
| Wheat straw | 20-40% | 8-9% | 14.4 MJ/kg |
| Corn straw | 20-27% | 8% | 15.68 MJ/kg |
| Straw pellets | 8-10% | 3% | 18-19 MJ/kg |
From the above chart, it is obvious that the straw pellets have high calorific value and low water content. After pelletizing, the calorific value of straw pellet is about 18-19 MJ/kg, ash content is lower than 3% and moisture content is lower than 10%. So the straw pellet as biomass energy fuel is a good choice.
Performance index of straw pellet
| Item | Index |
| --- | --- |
| Calorific value | >4000 kcal/kg |
| Density | >1.1 t/m³ |
| Ash content | ≤1.1% |
| Water content | ≤8% |
| Burning rate | ≥95% |
| Thermal efficiency | ≥81% |
| Smoke blackness(Ringelman grade) | <1 |
| Discharged dust consistence | ≤80 mg/m³ |
Through the chart we will find that the straw burning value is greatly improved after the processing of straw pellet mill. Furthermore, the smoke blackness (Ringelman grade) and discharged dust consistence mean that straw pellet is green and renewable energy. The most important of all, the raw materials are the cheap and abundant resources. It's really easy to make straw into fuel pellets, even for the individual household. At the same time, "reuse of waste" is a hot topic in recent years. From this point of view, crop straw can be used in biomass pellet production. Straw pellets have emission reduction, renewable, low pollution, economy and other advantages. Besides, we have different types of straw pelletizers to meet different needs. You can buy a small straw pellet mill for heating on a farm or home heating, and also can make a straw pellet processing line from 500 kg/h to 10 t/h.
Straw pelletizer for the production of straw pellets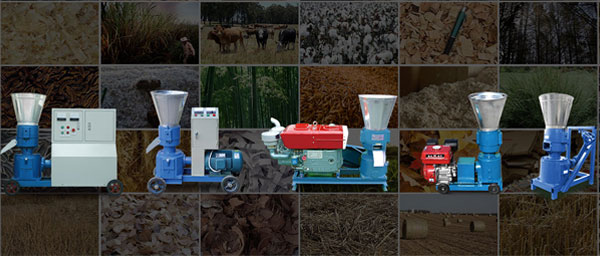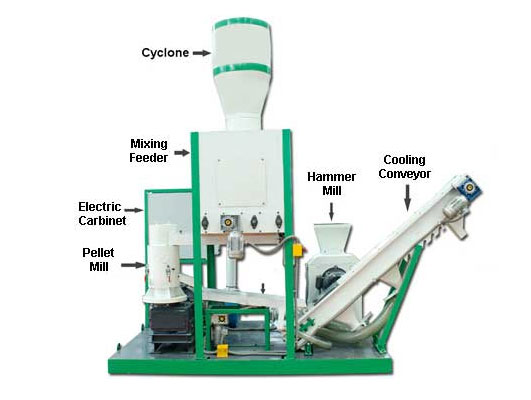 The small pellet plant is also called movable pellet plant, which has the features of positioning flexibility, compacted structure and stable performance. Besides, it is to facilitate transportation and storage. It is designed and manufactured to meet special needs of customers who have relatively low productivity requirements.

GEMCO pellet supplier will provide customized pellet processing line according to your specific material and requirements that has compact structure, low energy consumption and high efficiency.
In summary, the straw pellet production line can be widely used for industrial boiler, biomass powder plant and home heating. Biomass fuel has become one kind of main fuel sources in many countries and the demand is on the rise. If you want to set up your own straw pellet production plan, please contact us now!
Get in Touch Now!