Global production situation and application of biomass pellet fuel
Global production situation of biomass pellet fuel
In the past few years, the global biomass pellet fuel industry has grown significantly. Biomass pellet fuel has become the main fuel in many countries. The earliest biomass pellet fuel consumption boom is in Europe, which is closely related to their national subsidies and climate.

The biomass pellet fuel industry around the world has grown substantially since 2000. According to the data released during the 2015 European biomass pellet conference, the global consumption of biomass pellets in 2000 was about 1,700,000 tons. In 2013, biomass pellets were consumed 24 million 500 thousand tons, reaching 27 million tons in 2014 and 28 million tons in 2015. This figure includes 15 million tons for heating and 13 million tons for power plant combustion.
In addition, the most noticeable growth is in the EU. In 2014, European countries accounted for 50% of global biomass pellet fuel production. That is to say, 27 million tons of biomass fuel pellets in the world include 13 million 500 thousand tons which are produced in European countries.
The main biomass pellet fuel producing country in Europe is Germany. It is estimated that about 2 million 100 thousand tons biomass pellets were produced in this country in 2014. Germany takes the lead in other European countries such as Sweden, Latvia and Austria. They produced 1 million 600 thousand, 1 million 300 thousand and 950 thousand tons in the same period.
The four production leading countries and other European countries have contributed to the growth of 35% of the pellet industry over the past 2010-2014 years. The fastest growth was the 11% growth in biomass pellet fuel production over the past 2013-2014 years.
In European countries, biomass fuel pellets are mainly used for home heating and power plants. In this case, UK is still a major consumer of biomass pellets. It is related to government policies, including subsidies and support for biomass power plants. This is why some coal-fired power plants are transformed into biomass power plants.
Following UK are countries such as Italy, Sweden, Denmark, Germany, Belgium and Holland. Biomass pellet fuels in Belgium, Holland and the United Kingdom are mostly used for power generation. At the same time, the biomass pellet fuels used in Italy and Germany are largely used for heating. In these countries, biomass pellet fuels are becoming more and more popular because their governments impose high taxes on natural gas, oil and coal. Overall, the EU's share of global biomass pellet fuel consumption is about 80%.
Characteristics and uses of biomass pellet fuel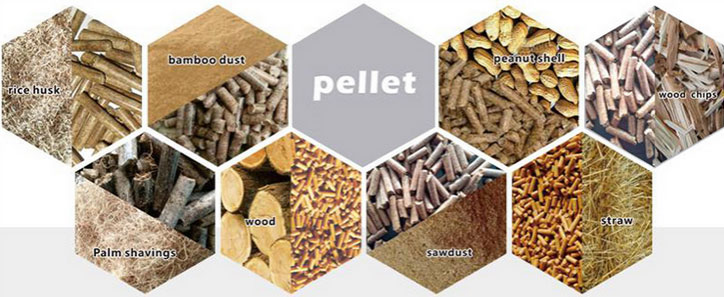 Biomass pellet fuel is a new energy source for environmental protection, which is produced by processing of straw, rice straw, rice husk, peanut shell, corncob, Camellia shell, cottonseed shell, and "three leftover". The diameter of the biomass pellet is generally 6-10 millimeter.
According to the classification standards of biomass pellets in Sweden and European Union, if the intermediate classification value is taken as an example, the biomass pellets can be generally described as the following characteristics. The diameter of biomass pellet fuel is 6~8 millimeter, the length is 4~5 times of its diameter, the crushing rate is less than 1.5%-2.0%, the water content of dry base is less than 10%-15%, the ash content is less than 1.5%, the content of sulfur and chlorine is less than 0.07%, and the content of nitrogen is less than 0.5%.
Biomass pellet fuel can replace coal for cooking, heating, and power generation. It can also be used as feed for aquaculture, fungus culture and other purposes. Biomass pellet fuel is not only zero pollution to the environment, it is simple, cheap, and rich in resources. As long as the green plants are growing year after year, the resources will not be exhausted.
About biomass pellet mill
If you want to build biomass pellet production line or make your own pellets at home, contact us quickly.
Get in Touch Now!